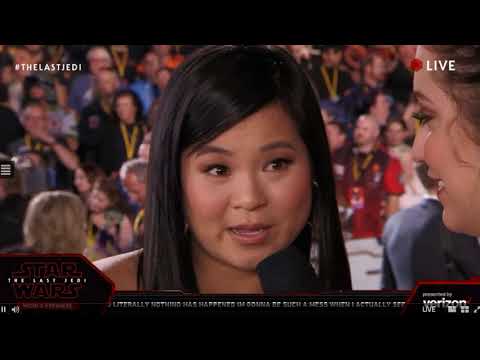 Star Wars' Newest Star: 5 Things to Know About The Last Jedi's Kelly Marie Tran
Overnight Fame
The Star Wars universe has a new member.
Fans were introduced a new character in The Last Jedi at Star Wars Celebration earlier this year at the Star Wars Celebration in Orlando, Florida. Actress Kelly Marie Tran will portray a Resistance maintenance worker named Rose in the upcoming film.
"[She] has the biggest new part in the movie and ironically is played by the smallest actor," director Rian Johnson said while introducing the actress at the Star Wars fan event. "She's not a soldier, she's not looking to be a hero, and she gets pulled in a very big way into an adventure in this movie with Finn [John Boyega], and Kelly just embodies that for me."
But while little is known about how her character fits into the story, there are a few things to learn about the 28-year-old actress herself.
Here are five things to know about Tran.
Her parents immigrated from Vietnam.
"My parents came over to America after the Vietnam war in the late '70s," she tells PEOPLE exclusively in this week's issue. "They worked from nothing just to give me the opportunity to have a dream. I'm not from an entertainment family at all. My mom works in funerals and my dad works at Burger King."
Her parents weren't thrilled with the idea of their daughter becoming an actress.
"Oh, they hated it. They were like, 'You need to do something real.' I think there was a lot of fear in the beginning, as it is with any parent."
Before becoming an actress, she worked a lot of odd jobs.
"I've done pretty much everything. I was a food tour guide — I took people on a tour to different restaurants in the area. I also nannied and worked in offices as an assistant, I cleaned a yoga studio, I passed out flyers — I worked every weird job."
She told her parents she was filming a small, indie movie while making The Last Jedi.
"I lied hard. I committed. I said I was in Canada working on an indie movie. I'm pretty sure I told some people Toronto and some people Vancouver and then I had to wrap around my lie. I even bought maple syrup to give to people to convince them I'd really been to Canada."
She's still new to the Star Wars fandom.
"I wasn't a big fan to begin with. I obviously was aware of it and knew it was this big, amazing thing, but then once I got on this project I binged-watched all the movies — it's so contagious. When you're in a room with all of the fans, you can't help but love it even more. Now I view it very differently than I did before."
http://people.com/movies/kelly-marie-tran-star-wars-the-last-jedi/